Inhalt
The pension for your winter holidays in the Harz mountains
British (or rather international) guests are always welcome!
We're in a quiet neighbourhood in Bad Grund - see directions and map.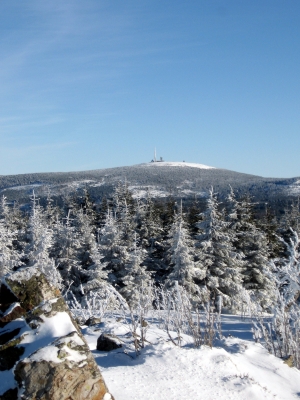 Idyllic view to the snow covered "Brocken"
Spend your winter holidays in Bad Grund in the Harz mountains in central Germany. Bad Grund is one of seven historic mining towns in the 'Oberharz'. Mining began in the 15th century and lasted until 1992. Tourism became popular at the start of the 20th century.
In summer we are known and loved as Biker-Hotel Harz, but we're also here for you in winter times.
Our house is owner-managed and offers 26 beds in ten double rooms and three apartments. We offer Bed'n'Breakfast.
If you're not just after winter sports (cross-country or downhill skiing, sledding) in your winter holidays, we'd be happy to help you find other sights and attractions.
If you're on holiday without a car (or just don't want to use it) the local bus stop is only 30 seconds walk from our front door.