Inhalt
Sights and attractions
Not just in Bad Grund, but also in the nearer surroundings, are there many sights and attractions in the winter.
Harzer Schmalspurbahnen and Brockenbahn (narrow-gauge railway)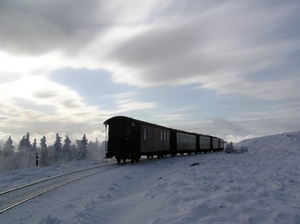 Brockenbahn
Sure, a ride with the narrow-gauge railway is an experience at any time of the year. Historic technology, that is on its blowing duty each and every day.
But if the pitch black steam engine fights its way through the white, snow covered countryside, is that a sight you shouldn't miss.
And if you thought, that there's much snow here in Bad Grund, you should really take a tour to the Brocken summit.
Christmas markets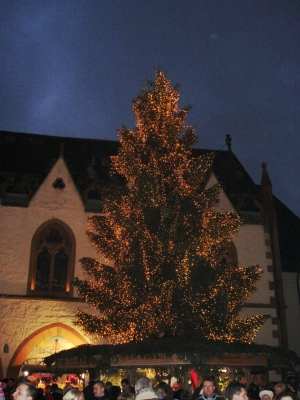 At the christmas market in Goslar
Often you are lucky and there's snow in the advent season. That makes a visit at one (or even more than one) christmas market in our region an impressive experience.
Nice christmas markets are e.g. "Winterwald" in Goslar or the markets in Wernigerode or Bad Harzburg.
A visit on several markets can surely be combined with a roundtrip in and over the Harz mountains.
Mining museum, flowstone cave
No ten minutes walk from our house you can visit the mining museum "Schachtanlage Knesebeck". It belonged to the former pit "Hilfe Gottes", that was put out of service just in 1992. You can visit it on certain weekdays in the wintermonths.
The flowstone cave "Iberger Tropfsteinhöhle" can better be reached by car. It's about 2.5 kms away from our house. Here you have an unforgetable insight into the early history of mankind and a wonderful underground world.
Other visiting mines can be found in the surrounding towns, we'd be pleased to help you.
Clock museum
In the town center of Bad Grund, a walk of about ten minutes, is the clock museum. One of the largest collections of clocks, ca. 1.600 pieces from six centuries of horology, awaits you here.
Arboretum
Since 1975 a local forestry office analyses the adaption of exotic tree species to the local climate and their groth characteristics. On an area of about 100 ha were planted and cultivated 285 tree and 238 shrub species from different forests of the moderate climate zone.
Around Bad Grund developped an exotic wood, that's really nice to go for a walk in in late autumn.